Your Computer Might Be Silently Failing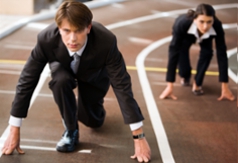 There's an old computer saying, "it's not a question of if it will fail but when it will fail" because computers break just like anything else. Unfortunately computers don't always give warning signs; at least not signs the average person recognizes is a problem.
The worst thing after a computer failure is the loss of important data. (Even if your doing a computer backup you might not be doing a backup appropriate for your situation). Don't get caught in that trap that "it won't happen to me". Lets look at some of the common computer problems that can cause computer failure or data loss.
come back later this week (under construction)w
Featured Products
Computer systems can be silently failing. That's why it's important to get your systems checked periodically. Our trained and experienced technicians go through a point-by-point inspection of all equipment and can spot problems before they lead to systems failure.
Malware has become a serious problem for businesses today. Security breaches, slow systems and loss data can all result from an infected system. Get your systems checked by a Brainy Support tech today!
If you're looking for a local provider of web hosting and email services, look no further than Brainy Support. We provide services from the basic web site to database clusters and server farms.